In obtaining this approval, Mastery has demonstrated that it complies with the ANSI/IACET 1-2007 Standard which is recognized internationally as a standard of good practice. As a result of their Authorized Provider membership status, Mastery Technologies, Inc. is authorized to offer IACET CEUs for its programs that qualify under the ANSI/IACET 1-2007 Standard.
What is IACET?

IACET's mission is to promote and enhance quality in continuing education and training through research, education, and the development and continuous improvement of IACET criteria, principles, and standards. The organization is an accredited Standards Developing Organization by the American Standards Institute (ANSI) and is an authorizing body for education providers that meet the American National Standard for continuing education and training (ANSI/IACET 1-2007 Standard). The IACET standard is what learners seek for quality and is the core of thousands of educational programs worldwide.

What is an Authorized Provider?

The IACET Authorized Provider (AP) status means that an organization adheres to IACET's internationally recognized ANSI/IACET 1-2007 Standard for Continuing Education and Training. Only Authorized Providers may award IACET Continuing Education Units (CEUs).

What is a CEU?

The Continuing Education Unit (CEU) was created by IACET as a measurement of continuing education. One (1) IACET CEU is equal to ten (10) contact hours of participation in an organized continuing education experience under responsible sponsorship, capable direction, and qualified instruction.

How do I receive IACET CEUs from Mastery Technologies, Inc.?

The number of CEUs granted for each course taken is available on all product pages. Units are assigned only to those courses deemed qualified for accreditation by Mastery Technologies, Inc.
Training Certificates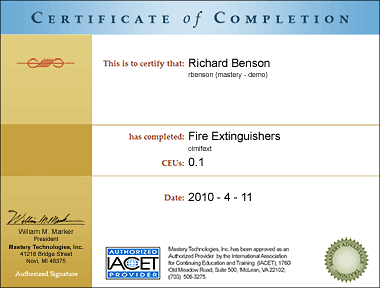 Web-Based Training Certificates
If you are a web-based learner, IACET CEUs are granted when each course is completed in full. Upon exiting the course, you will be asked if you want to print a certificate of completion, which includes the number of CEUs assigned to this course as well as the official IACET Authorized Provider logo.
CD or Local LAN-Based Training Certificates
If your company offers Mastery training via the company's network; or if you run the course from a CD in your computer, learner records must be released to Mastery Technologies, Inc.'s Novi, Michigan location. Mastery will maintain those records for a minimum of ten (10) years. Upon request, Mastery will validate the records and issue certificates of completion for all learner courses showing both completion and mastery of course learning objectives.
All records are kept confidential as defined in Mastery Technologies' Privacy Policy.