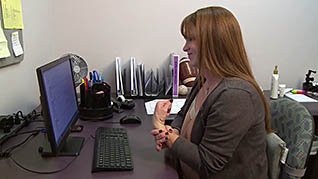 Health and Safety When Working with Computers
Training courses for health and safety when working with computers
Even everyday office jobs come with certain health risks employees must be aware of. Health risk factors in the office often have more long term consequences, and the sooner you learn about them, the sooner you can begin preventing these detrimental effects. Health and safety when working with computers is one main concern. Staring at a screen all day can hurt one's eyes and cause headaches. The way one sits or types can also have long term effects on posture or lead to a Musculoskeletal Disorder (MSD).
Mastery Training Services offers several courses on health and safety when working with computers. Our online courses deal with ergonomics, computer workstations, and general office safety. Read through the options below to find the best training video for your employees on office safety.
Course Listing by Topic:
Safety: Office Safety
Single play retail price is listed, contact us for employer pricing.