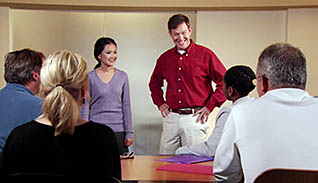 Employee Teamwork Training with Mastery Training Services Training Videos
Mastery Training Services has teamwork training to help promote teamwork in any kind of workplace. Our courses teach employees accountability, interpersonal skills, leadership skills and more.
Most people would agree teamwork is a beneficial and even necessary skill for any workplace to have. There are countless obvious benefits like improved communication, delegation of responsibilities and increased trust. Teamwork also has other benefits beyond what you might expect. Working in a team can encourage employees to take healthy risks they might not be confident enough to take on their own. It also allows people to be much more creative when they can hear different perspectives from others in the group.
Choose teamwork training from the list below to start creating a productive environment: