I start a course and see a white screen in the video player.
If you launch a course and see the screen below, follow the prompt to right-click on the white area and select "Run this plugin." This will load the Flash video player and allow you to view the video.
If you already chose to not run the plugin, your screen will look like the one below. If you have done this, you need to exit the course, re-enter the course, and select the "Run this plugin" option after right-clicking in the white area.
To prevent this from happening again you can update your settings in Chrome to always allow Flash. To allow Flash to play you should click on the 3 dots and select Settings.
Then at the bottom, choose Show advanced settings, and under Privacy, select Content settings
Scroll down to the Flash section. You have 3 options:
Allow sites to run Flash
Detect and run important Flash Content (recommended)
Block sites from running Flash
Manage exceptions
If you choose either of the first two options, you should not experience any issue playing VOD courses.
If your Chrome browser is set to block sites from running Flash, you will get a message asking if you want to allow Adobe Flash Player to run when you launch a course. You can add our site to the approved exceptions list by clicking on the Manage Exceptions options and adding the course launch page url (as highlighted below) to the Hostname pattern list and listing it to Allow. Then click on Done.
I login over and over but it does not log me in.
I enter my user ID into the login box. Click on Login.

I receive the screen to confirm my identity.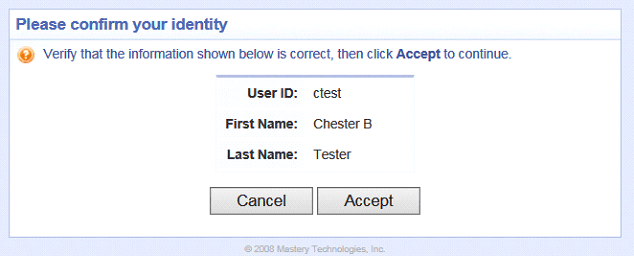 I click on Accept. Then it returns me right back to the "Please enter your login information" screen.

Try closing all instances of the browser you are using. After closing ALL instances of the browser, open a fresh one and try logging in again.
If this does not resolve the issue and you are training on VOD format courses, try switching to a different browser. If you are training on Advantage format courses, you must use Internet Explorer as your browser. Still experiencing the issue, try clearing the browser's cache or a complete shutdown (not a restart) of your computer.
I have a black screen with the message "This course only works in Internet Explorer. Please exit the browser you are in and retry the course in Internet Explorer."

If you are receiving this message you are using another browser that is not Internet Explorer, such as Google Chrome or Mozilla Firefox. This Advantage format course will only work on Internet Explorer. Exit the course. Open up regular 32-bit Internet Explorer (64-bit edition Internet Explorer will not work). Enter the link to access your online training.
I am having problems using the administration features in the MasteryNet™ Learning Management System and I'm using Internet Explorer 10 or 11.
Internet Explorer versions 10 and 11 need to be in Compatibility View Mode to work properly with MasteryNet.
Internet Explorer 11

You can click on Tools from the Internet Explorer Tool Bar or you can select Compatibility View settings from the cog wheel icon in the upper right hand corner as shown below.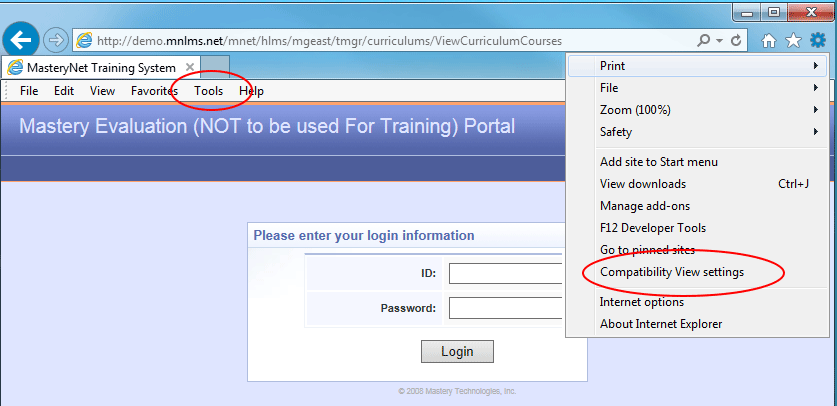 Once you click on Compatibility View settings this window will appear: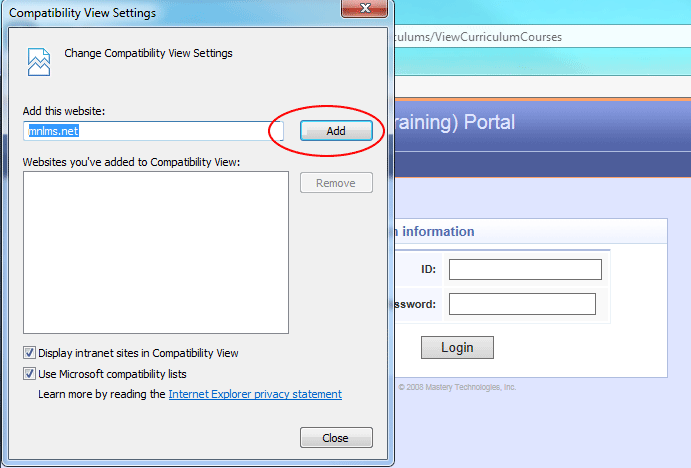 If you are on a MasteryNet LMS site, the mnlms.net will automatically be filled in the Add this website: Go ahead and click on Add. If you are not on a MasteryNet LMS site, you will need to type the mnlms.net and then click Add. Go ahead and click on Close.
---
Advantage Format Course Only
I have audio, but no video, just a black screen
Do you have two monitors? If so, bring the window playing Mastery to the main monitor.
Do you have a Windows XP operating system? Are you able to play the MasteryNet Player test file below:
MasteryNet Player test file
If the file does not play properly, you may need to update to Windows Media Player 11 or it will prompt you to install a missing codec
Mediator could not be initialized
This occurs with a Windows 7 Operating System if you are using the 64 bit version of Internet Explorer. To make sure you are using the correct version of Internet Explorer go to the Start button and click on All Programs. Choose the Internet Explorer without (64-bit) next to it.
If this is unsuccessful, check Internet Explorer's "Internet Options" in the "Tools" menu. Look for security settings and/or permissions that may interfere with the MasteryNet Courseware Player. Check to see if ActiveX controls are blocked.
If the above measures do not resolve the problem, make sure you are able to write to your local hard drive C:.
If you need further assistance ask your help desk, IT department or network support person.
Unable to connect to Server
The server may be temporarily unavailable.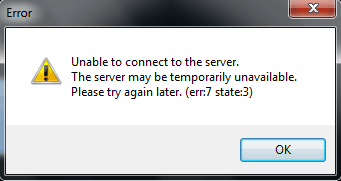 The "unable to connect to server" message indicates a security program and/or settings/firewall is blocking the download of the courseware files to your local hard drive.
If you have a DELL computer, you may have a security program installed by Dell called Embassy Trust Suites. The program Embassy Trust Suites causes this error to occur. Once this program is removed the Mastery training should work properly. Do NOT remove any program without checking with your Help Desk or IT department.
If you do not have the program Embassy Trust Suites and the "Unable to connect to server." message includes (err:7 state:3) you have a different security program and/or firewall security settings blocking the download of the courseware files to your local hard drive. Check with your help desk or IT department for assistance.
I am receiving an "ERROR Unable to load ltkrn13n.dll (err:126) trying to play an Advantage format course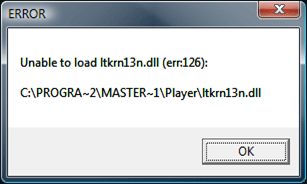 Follow the steps below to re-install the MasteryNet Player:
From the Control Panel, Choose Add/Remove Programs.
After the list of programs populate, do you have MasteryNet™ Course Player v2.506 listed? If so, remove it.
Open Internet Explorer. Go to Mastery's home page http://mastery.com. In the upper right hand corner click on HELP. Under the heading Downloads choose MasteryNet™ Player and choose "save" and save it to your hard drive or desktop.
DO NOT RUN IT.
After saving the mtplayerinstall.msi file to your hard drive or desktop, close the download screen and then close the browser (Internet Explorer)
CLOSE ALL INSTANCES OF INTERNET Explorer. Then go to the downloaded file and right mouse click it and choose Install to install the MasteryNet™ player. After the MasteryNet™ Player has been successfully installed, open up Internet Explorer and try the training again. We currently only support Internet Explorer for our advantage courses. The MasteryNet™ Player is currently not supported on Google Chrome, Mozilla Firefox, or the 64-bit version of Internet Explorer (Windows 7).
I have an Advantage format course and Video plays without audio
If your computer has a Windows Vista or Windows 7 operating system you may need to install the Windows Media Player audio codec update below to complete the course.
Some of our courses fail to play the audio tracks with these versions of Windows Media Player.
You need to download and install the Windows Media Player Codec Update using this link:
Audio Update for Windows Media Player 11 (if you have Windows 7 operating systems)
Download the zip file to your desktop.
Double click the zip file to reveal the acelp_for_Vista.exe file.
Double click the .exe file to install the codec update.
You should receive a "Do you want to install the VoiceAge ACELP.net audio codec?" message on your screen during the installation of the update.
If the problem persists there may be another media player (other than Windows Media Player) associated with .mpa, .mpg, .wma, and .wmv file extensions. To change the file association on a Windows XP Operating System:
Open Windows Explorer.
On the Tools menu, click Folder Options.
Click the File Types tab.
Click on each extension and verify which program opens it.
Change as needed.
MasteryNet Player Video test file for Advantage format courses
Play this test file to check for proper Media Player installation.
MasteryNet Player test file
MasteryNet Player Audio test file for Advantage format courses
Play this test file to check for proper Media Player audio installation.
MasteryNet Player audio test file