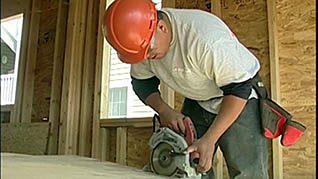 Hand and Power Tool Safety Training Videos
Training Videos for hand and power tools
Working with power tools can be a difficult and often dangerous task, especially for those who are unfamiliar with the tool they are operating. If any of your employees are going to be using power tools in any capacity, it's crucial they receive adequate training.
A power tool is any tool powered by a source other than pure manual labor. Some of the most common examples of power tools are drills, power saws, chainsaws, and electric hedge trimmers. Power tools can often accomplish jobs much faster and more easily than traditional tools, but they also pose an injury risk if not used correctly. Browse the list of hand and power tool safety training videos below to find the safety video best suited for you or your employees. Whether on a construction, golf course, or landscaping job, make sure your workers are informed on the proper safety procedures for whatever power tools they are using.
Course Listing by Topic:
Safety: Power Tools
Single play retail price is listed, contact us for employer pricing.