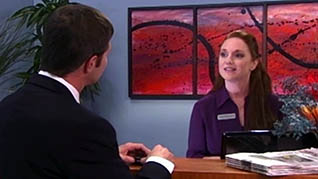 Hotel Training Videos
Hospitality training videos for hotel services and management
As with any job, managing a hotel comes with its own set of challenges. Having a well-trained staff can make these challenges less problematic and more rewarding to overcome. When you hire new staff, make sure they receive the best training in customer service, hazard communication, and other safety topics related to the hospitality field. When your hotel staff is prepared with proper training, they will be better equipped to handle any situation that might come their way.
Mastery Training Services provides hotel training videos that are easy to use, affordable, and effective at training employees on the given topic. Browse the list of hospitality training videos below and choose whichever ones are best suited to your hotel and its employees.
Course Listing by Featured Workplace:
Hotels and Motels
Single play retail price is listed, contact us for employer pricing.