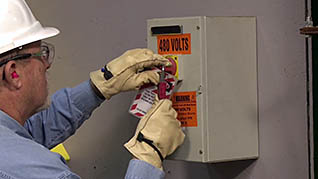 Lock Out Tag Out Training
Control hazardous energy by training employees on lockout and tagout procedures
Although modern machine design has made the workplace much safer, the risk for serious injury still exists. In fact, failure to adequately safeguard machinery is one of the most common violations of OSHA regulations. These training courses thoroughly cover machine safeguarding by teaching employees and management the importance of using machine safeguards, including the basics of machine safety, such as how to identify which moving parts present a hazard, signs a machine is about to breakdown and how to select proper protective equipment. Courses also cover lock out tag out training, as required by the OSHA, to prevent accidents from occurring at commercial and industrial worksites.
These safety courses apply to the workers using the machines, the people repairing and maintaining the machines, the supervisors of these workers, and any employee working around machines.
Course Listing by Topic:
Safety: Machine Guarding, Lock Out & Tag Out
Single play retail price is listed, contact us for employer pricing.