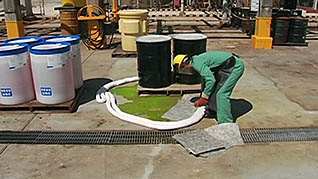 EPA Compliance Training
Follow EPA regulations to protect your employees & the environment
To keep the workplace and environment safe, it is vital to supply proper EPA Compliance Training. Ideal for organizations dealing with hazardous materials, our courses provide essential training on EPA regulations, helping you minimize risks and maximize responsible practices. Our courses cover a wide array of topics including EPA guidelines, hazardous materials labeling, environmental responsibility, management systems, spill prevention, stormwater pollution prevention, and universal waste. Equip your team with the knowledge they need to operate in full compliance with EPA standards, safeguarding both your workplace and the environment.
The surest way to prevent disasters in the workplace and environment is following the Environmental Protection Agency's (EPA) regulations. Many believe hazards aren't lurking in their workplace; however, the repercussions from something as simple as throwing batteries in with the regular trash can cause harm to an employee and the environment.
Course Listing by Topic:
Compliance: EPA
Single play retail price is listed, contact us for employer pricing.