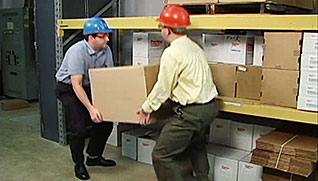 Back Injury Prevention
Practicing back safety could save you from a lifetime of pain
80% of American adults will experience back pain at some point in their lives. Employees must learn how to keep their backs healthy while on the job and in their day-to-day lives. These back-injury prevention training courses provide tips and techniques for preventing back injuries.
Employees must complete regular stretching, strength building exercises, and use proper ergonomic systems to maintain health backs. Another key component to keeping your back safe is using proper lifting techniques. Proactive back injury prevention is the best strategy.
These courses are relevant for all employee groups, but especially important for those involved in physically demanding jobs and repetitive tasks, whether performed at a desk or on a shop floor. Courses cover topics including exercise and ergonomics, lifting training, preventing back and neck injury, and more.
Course Listing by Topic:
Safety: Back Injuries
Single play retail price is listed, contact us for employer pricing.