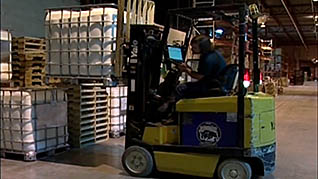 Forklift Operator Training
Stay Safe with Forklift Operator Training
Forklift accidents can cause serious injury to employees and expensive damage to company property. Before any employees operate a forklift, or lift truck, OSHA requires they complete approved forklift operator training courses like the ones offered here.
Our cost-effective, efficient programs teach participants everything they need to know to stay safe while operating heavy machinery, forklifts and lift trucks; including how to inspect a forklift, handle a load, refuel and recharge, drive safely and follow the "rules of the road." Make sure you comply with OSHA, and your employees stay safe with these forklift operator training courses.
Course Listing by Topic:
Safety: Material Handling
Single play retail price is listed, contact us for employer pricing.