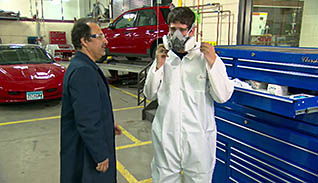 Mechanic Training Online
Auto mechanic training videos
Elevate your auto repair shop's safety standards to an unparalleled level with our specialized online training courses.
Mastery Training Services provides mechanic training online at an affordable cost for you or your employees. Our interactive videos go beyond traditional teachings, focusing on real-world applications of safety protocols, from hazard recognition to emergency response. Browse our curated list of safety training resources below, and invest in a safer, more efficient workspace today. Equip yourself and your team with the essential safety skills required to not only meet but exceed industry regulations.
Course Listing by Featured Workplace:
Auto Repair Shop
Single play retail price is listed, contact us for employer pricing.