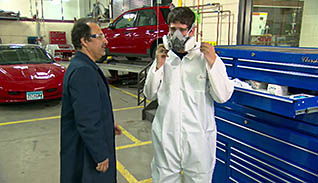 Mechanic Training Online
Auto mechanic training videos
An auto repair shop is only as good as its employees. If you are training to become a mechanic or you run an auto shop, make sure you or your employees are prepared to take on every aspect of the job. As a mechanic, you must know not only about auto repairs and maintenance, but also about the safety measures to take in this kind of profession.
Mastery Training Services provides mechanic training online at an affordable cost for you or your employees. Our auto mechanic training videos are easy to use and teach you quickly what you need to know to be proficient at your job. Browse the list of mechanic training videos below for topics on car batteries, fuel economy, employee safety, and more.
Course Listing by Featured Workplace:
Auto Repair Shop
Single play retail price is listed, contact us for employer pricing.