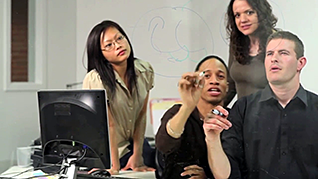 How to Foster Employee Innovation
How to Foster Employee Innovation, Creativity, and innovation in the workplace
When you learn how to foster employee innovation in the workplace, you also cultivate a more productive environment. Entrepreneur Magazine says encouraging employee creativity and innovation can offer payback in a multitude of ways including higher profits, stronger ideas, and a better competitive advantage.
Innovation doesn't mean eliminating old business practices or company mantras. Although it can sometimes change the way processes are run, this willingness to change or adapt helps attract and retain forward-thinking individuals. Encouraging employee innovation in an open, diverse manner allows for further discussion and possible implementation.
Bridge generational, educational, and opinion differences by creating a positive, open work atmosphere with a multitude of employee opinions and beliefs in mind. Browse our online training videos today to learn how to foster employee innovation in your workplace.
Course Listing by Topic:
Organizational Values: Creativity & Innovation
Single play retail price is listed, contact us for employer pricing.