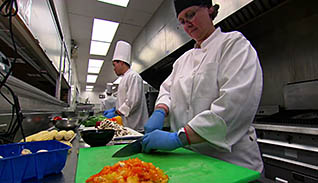 Food Manufacturing Training
Training on safety and hygiene in food manufacturing
The production of food must be taken very seriously, and doing so starts with the training of employees in the food manufacturing industry. Our courses cover good manufacturing practices for food production. These practices include keeping good hygiene, maintenance methods, and keeping the entire manufacturing process clear of any contamination. We also provide safety training on preventing cuts and other hand injuries.
Invest in our food manufacturing training courses today to ensure a safer and cleaner workplace. Browse these training videos featuring the food manufacturing workplace.
Course Listing by Featured Workplace:
Food Manufacturing Plant
Single play retail price is listed, contact us for employer pricing.