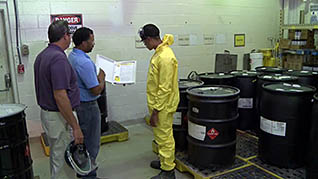 Chemical Plant training
Online training for safety in a chemical plant
Working in a chemical plant presents many hazards employees need to be aware of. Training to work in a chemical plant should involve comprehensive preparation on any of the different things that could potentially go wrong. Your employees need to know what to do in problematic situations as well as how to deal with day-to-day operations handling hazardous materials.
Mastery Training Services provides chemical plant training for anyone working in the industry to use. It comes at an affordable price and is both easy to use and highly effective. Don't take any chances. Invest in quality training featuring a chemical plant environment to ensure maximum safety and efficiency for your employees.
Course Listing by Featured Workplace:
Chemical Plant
Single play retail price is listed, contact us for employer pricing.