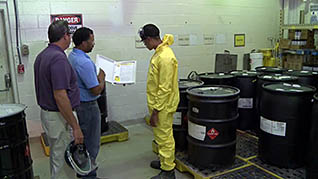 Chemical Plant training
Online training for safety in a chemical plant
Working in a chemical plant presents many hazards employees need to be aware of. In an environment where hazardous materials are part of daily operations, comprehensive training isn't just recommended—it's essential. Whether you're dealing with emergency situations or routine tasks, your employees must be thoroughly equipped to manage both safely and effectively.
Mastery Training Services provides chemical plant training for anyone working in the industry to use. Our courses are crafted to be not only affordable but also easily accessible and engaging. We cover an expansive range of topics, from hazard recognition and emergency response protocols to the safe handling of chemicals and equipment. Don't leave safety to chance; make it a guaranteed outcome.
Course Listing by Featured Workplace:
Chemical Plant
Single play retail price is listed, contact us for employer pricing.