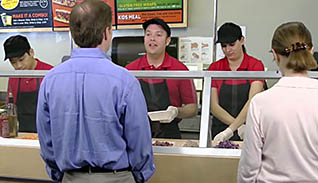 Restaurant Training Videos
Food service training videos
Invest in the best affordable restaurant training videos for your employees. Our courses cover topics like customer service, cut protection, hygiene, food handling, and more. Don't let your employees go untrained on these important topics. These courses help improve the service provided by your employees and increase safety in your restaurant. Whether training new employees or refreshing veteran employees, you will find our food service training videos are comprehensive and easy for anyone to use and understand. Look at the training videos featuring restaurants below to find what you need for your own food services employees.
Course Listing by Featured Workplace:
Restaurants and Food Services
Single play retail price is listed, contact us for employer pricing.